Aperture
Furniture for the future of workspaces
---
Concept entry for LG Display and Dezeen's OLEDs Go! competition

Drawing inspiration from architectural cues, Aperture explores the permeability of partitions and the potential to open up pockets of interaction within dividers that are primarily used to segregate spaces and instill elements of privacy.


The concept plays upon our familiarity with the affordances of windows which naturally illuminate and visually connect adjacent spaces.

Aperture has been designed with the future workplace in mind, with the aim for it to be utilized in open office spaces, where fluid segregation of spaces is commonplace. It provides the option of three different settings: ambient mode, discussion mode and open mode.

Ambient mode:
In ambient mode, the OLED screens display a variation of colour gradients that abstractly represent real-time weather updates. Weather icons and outside temperature measurements accompany these graphics in order to help users quickly decipher the weather.

Discussion mode:
In discussion mode, the OLED screens become tools for fostering collaboration. Brainstorming sessions and presentations are easily conducted by connecting to cloud services. In addition, the touchscreen capability of OLED enables the screens to become a drawing canvas for ideation sessions, if required. The interface resembles drawing on a condensed glass panel.

Open mode:
In open mode, the OLED screens can be toggled to be translucent. The screens can also function as 'windows' to the other side, making a previously closed-off space more open. Users will also be able to play games with one another on either side of the the partitions, providing a source of fun and respite within the workplace.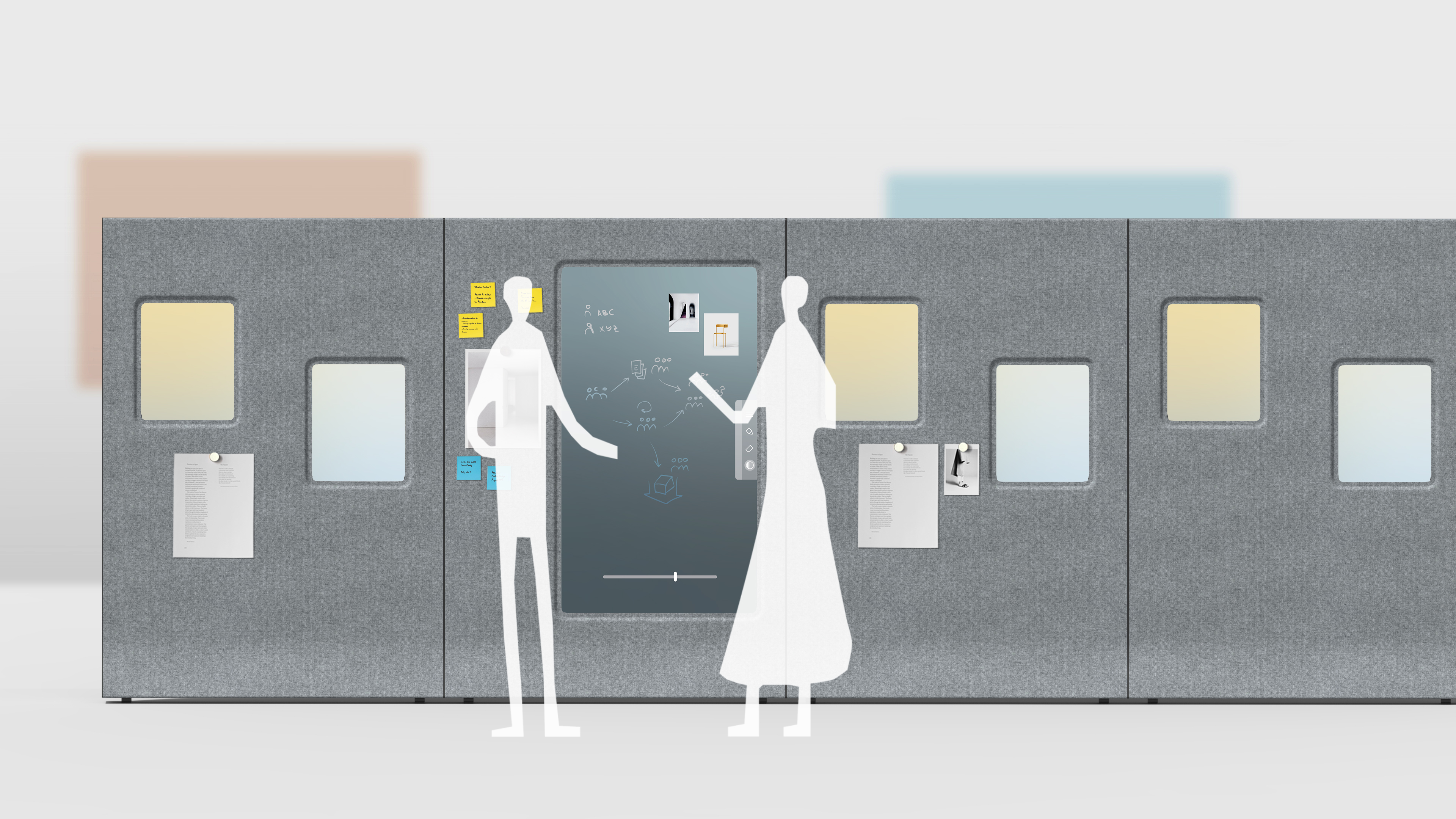 Construction of product
Aperture's design consists of two main components: the internal frame structure and the acoustic panelling that is attached onto the frame. With magnetic pogo pins lining both sides of the frame, power can be transmitted across multiple partitions when connected.

We envision the acoustic panels to be made from recycled polyethylene terephthalate (PET) felt, whose raw material is derived primarily from recycled plastic bottles. The PET felt will be heat molded into a custom shape and latched onto the frame. OLED screens will then be installed in the allocated spaces.
Year
2021

Team
Patrick Khoo, Ng Jia'en