Squeezing is such a familiar gesture rooted in everyday life. In addition, there seems to be an inextricable relationship between squeezing and a sense of joy.

Driven by a fascination around this gesture, I was interested in imagining objects that could live in this world — objects which could seemingly come to life through the act of squeezing.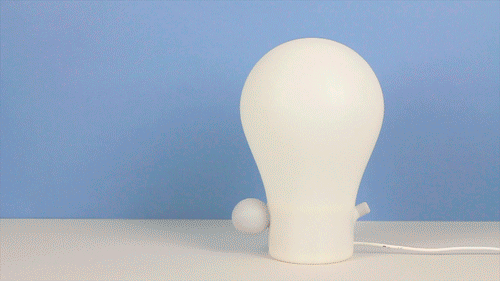 ︎︎︎ The table lamp increases in brightness the more it is squeezed, and dims when a plug at the back is released. With a similar gesture, the portable speaker increases its volume, and gradually quietens when it is set upright.
︎︎︎ Castable polyurethane foam and silicone were used to prototype the squeezable components for the objects.
︎︎︎ Development of a thin squeezing sensor to be embedded within the objects.

︎︎︎ Following an open call by Wallpaper* for all young Singaporean designers to submit their ideas along the theme of "Wellness + Wonder", the lamp was selected as part of 44 projects to be shown at the 2018 Handmade exhibition held in Milan and Singapore.