SUPERMOM
Bridging the communication gulf between Ministry of Manpower and migrant workers
---
Project awarded 1st Runner-Up in competition jointly organised by Ministry of Manpower and
Service Design Lab.
When migrant workers start work in Singapore, there are a number of rules and employee rights that they should be aware of. The Ministry of Manpower (MOM) has been trying to communicate such information through different means, such as various distributed collaterals, roadshows, hotlines and SMS etc.

However, there is still a communication gulf between the workers and the ministry. Despite the variety of outreach methods, MOM has only been able to reach up to 50% of foreign workers.

With our insights and help from the MOM staff, we came up with a service ecology that aims to provide a two-way communication between the foreign workers and MOM.



User research
To understand their point of view, we conducted interviews with 7 Bangladeshi migrant workers near the National University of Singapore (NUS). The goal was to understand whether they have been aware of the information and collaterals that have been frequently distributed to them by MOM.

We also looked at the various avenues that are currently available for the workers to obtain related information, to identify initial painpoints and concerns.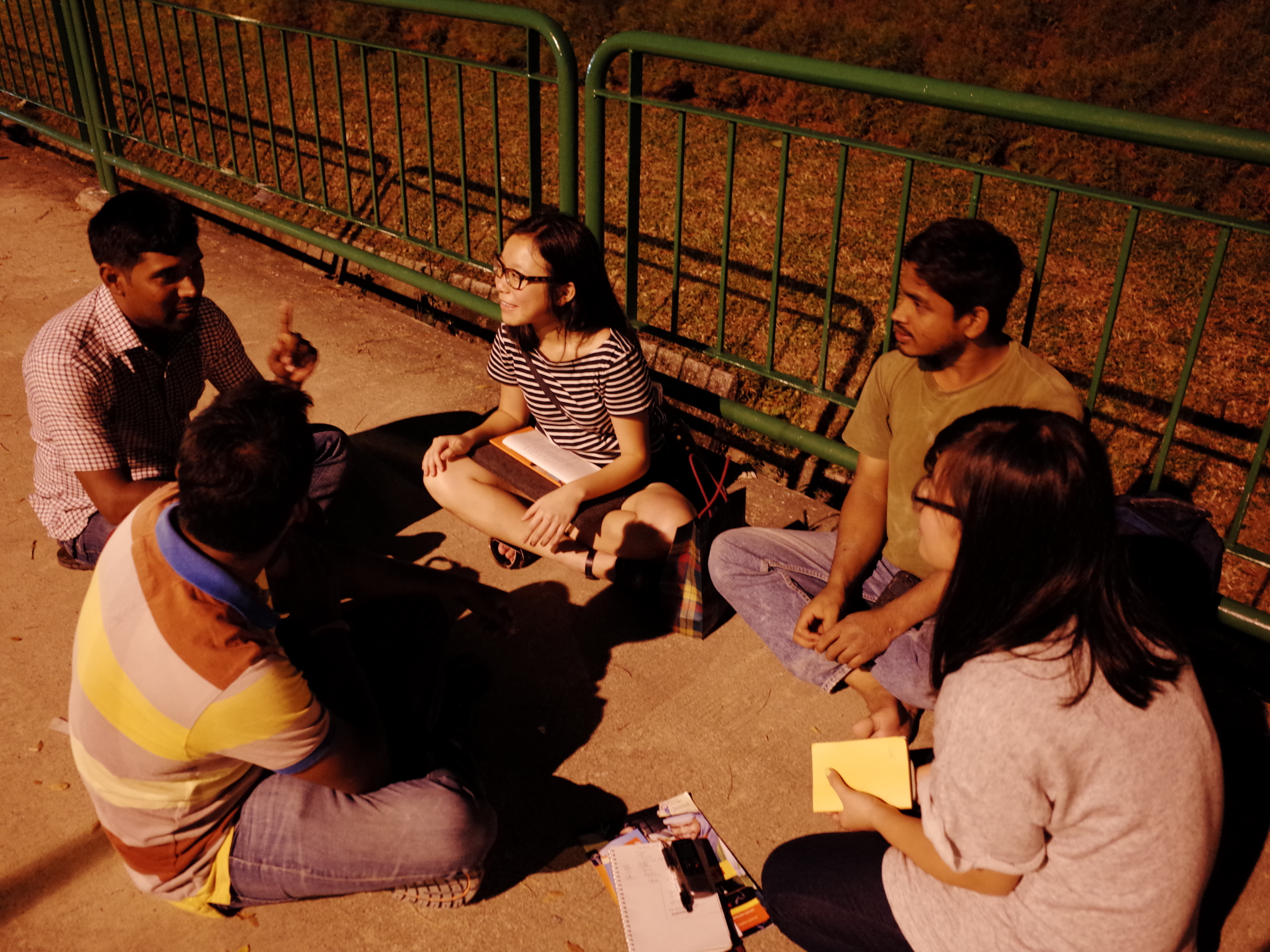 Information gulf between MOM and migrant workers
Through our conversations with migrant workers, we found that they often felt overwhelmed by the torrent of messaging pushed by MOM.

This was largely due to the fact that the information did not feel particularly relevant to them and in worse cases, repetitive. As a result, information was easily forgotten, at times overwhelming, and unavailable to the foreign workers when they really needed it.

Design opportunities
With our insights in mind, we wanted to better design information mediums that are accessible, context-sensitive and provides autonomy for the migrant workers.

We outlined 5 key design opportunities to guide our solutions.


Context-sensitive information delivery: "Can we disseminate information at the appropriate time?"



Giving autonomy: "Can I choose the information when I want or need it?"



Easy-to-recall information: "Can information be more memorable and digestible?"



Taking key learning points from other commercial outreaches: "Why do foreign workers know about Singtel roadshows but not MOM's?"



Hook, not push: "How can we get them to be more curious about the information?"
Ranking of existing collaterals and topics from MOM
We wanted to find out which topics were most relatable to them. By asking them to rank the existing collaterals from MOM in terms of the kind of information that personally mattered to them most, it was gathered that information could be divided largely into "Important-to-know" and "Good-to-know".

We mapped out a solution chart illustrating how various mediums can be used to naturally introduce different topics into the lifestyles of the workers.

For example, "Good-to-know" information that is less relevant to them such as courtesy issues can be printed on collaterals to be given out at outdoor roadshows. Such information would only be applicable and important to them when they are travelling outside.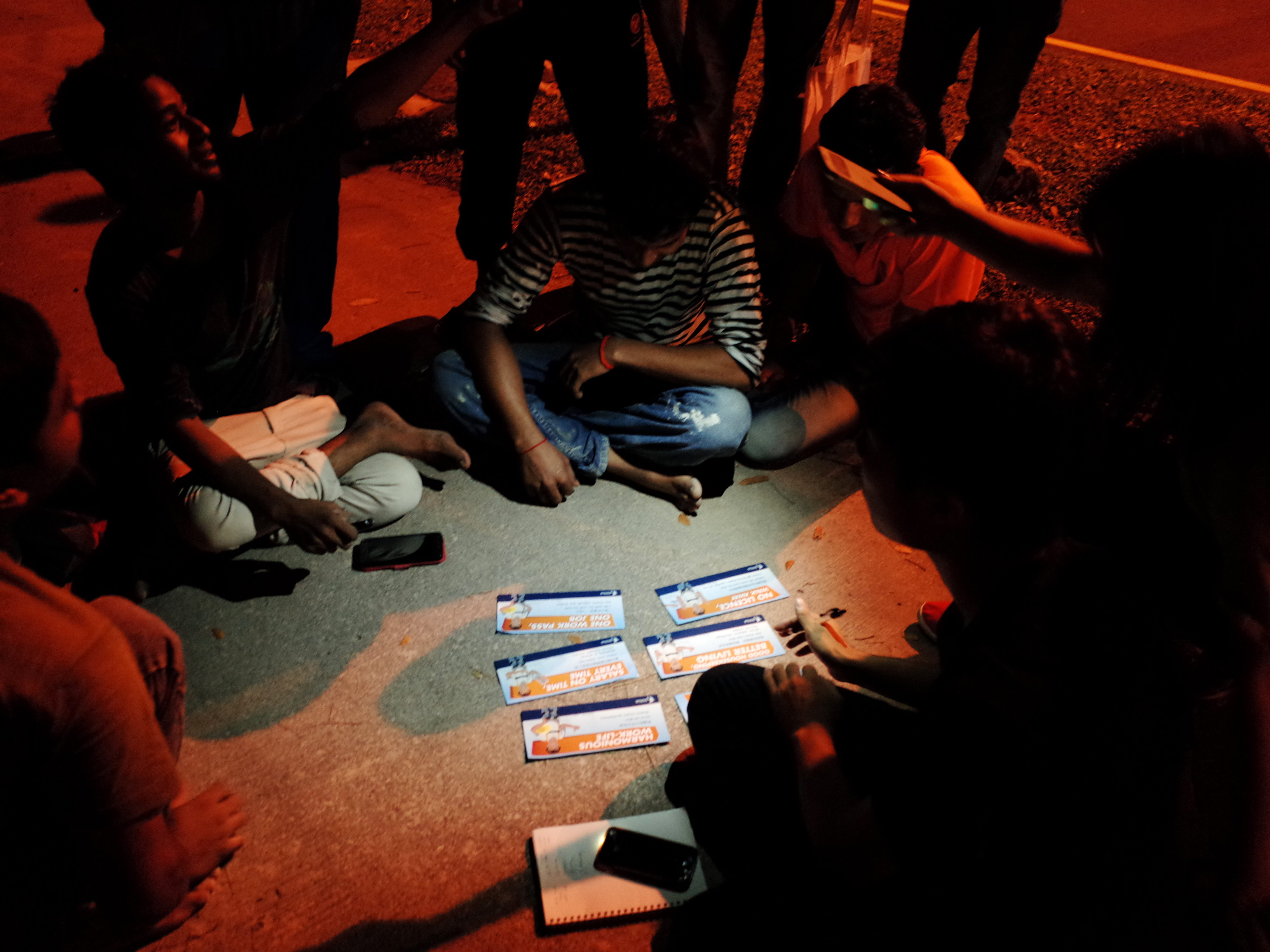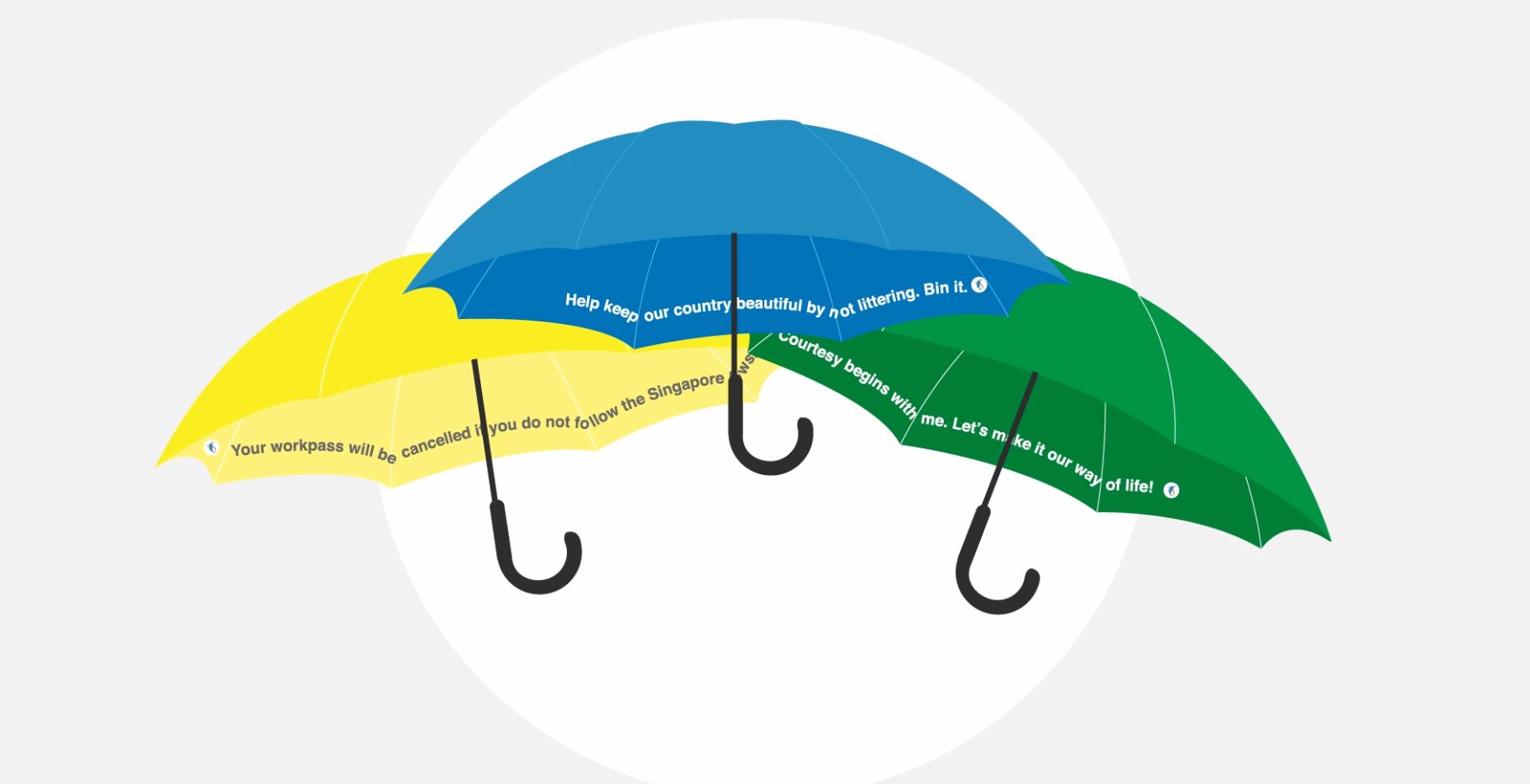 Solutions
1. Handy Guide 2.0
"I will keep. I will keep in my house. Sometimes I will read it. Book is good."
Excerpt from a Bangladeshi migrant worker regarding his relationship with the current MOM handy guide
The MOM handy guide is seen as an essential to many workers, with many keeping it in their dormitories — as a Bible of the important "dos and don'ts" to note while working in Singapore.

However, the current guide contains a vast sea of information — from topics such as salary matters to social ettiquette.

Improving upon this, the new handy guide seeks to better user experience by catering to specific nationalities with the following features:


Prioritized information according to specific nationalities' preferences



Helpful contacts easily accessed at the back



Elimination of the bilingual guide, featuring only a single language to provide a concise experience
2. SUPERMOM App

8 out of 10 foreign workers own a smartphone, which is used for practical reasons like catching up on news and connecting with loved ones. We prototyped an application which is suitable for getting information on the go.

"Sometimes I never count how many hours I work. OT slip easily lost also."
Excerpt from a Bangladeshi migrant worker regarding his daily woes with salary matters
As salary issues is one of the most prioritized information, the app features an Overtime Calendar and Salary Calculator, which helps to track daily overtime hours (OT) and calculate monthly pay. This helps to record physical daily OT slips that they receive at the end of the day which can be easily lost or misplaced.

The app also includes an electronic version of the new handy guide, enabling workers to consult the guide anytime, anywhere. Information can also be spread through their network, with trusted sources sharing information and giving advice to their friends to make more well-informed decisions.
3. Mobile Truck

We noticed that there is a huge inertia for foreign workers to go down to the MOM Service Center. Moreover, the MOM Service Center is closed on their only free day — Sundays.

To bridge this gap, the mobile truck drives an intimate service and welfare provider to the heart of dormitories on weekends, bringing MOM closer to the foreign workers.
"Ya, iPhone. I have internet. No data, no plan. (Uses prepaid card) Dorm has WiFi, but very slow."
Excerpt from a Bangladeshi migrant worker when enquired whether he has owns a smartphone
With every gigabyte of data costing $7, we found out that data is very precious to them. WiFi connectivity is also limited in the dormitories. As such, the van features free WiFi, which can be used to promote the application.

The van also features:


Play Area: A welfare service to attract workers and soften MOM's authoritarian image.



Info Area: For workers to gather needed information through collaterals, as well as inquiring available MOM staff members.
User testing
To test our prototypes, we went to a few congregational areas in Little India, where we spoke to 23 foreign workers for feedback.

Their impressions on the improved handy guide and app were favorable during user testing, with 15 out of 23 of them saying that they would download the app for use. All 23 of them also preferred the improved handy guide.
"Sometimes if I go anywhere, I'll forget to bring the book. If I have problems outside I can view the app lah."
On feedback regarding the mobile application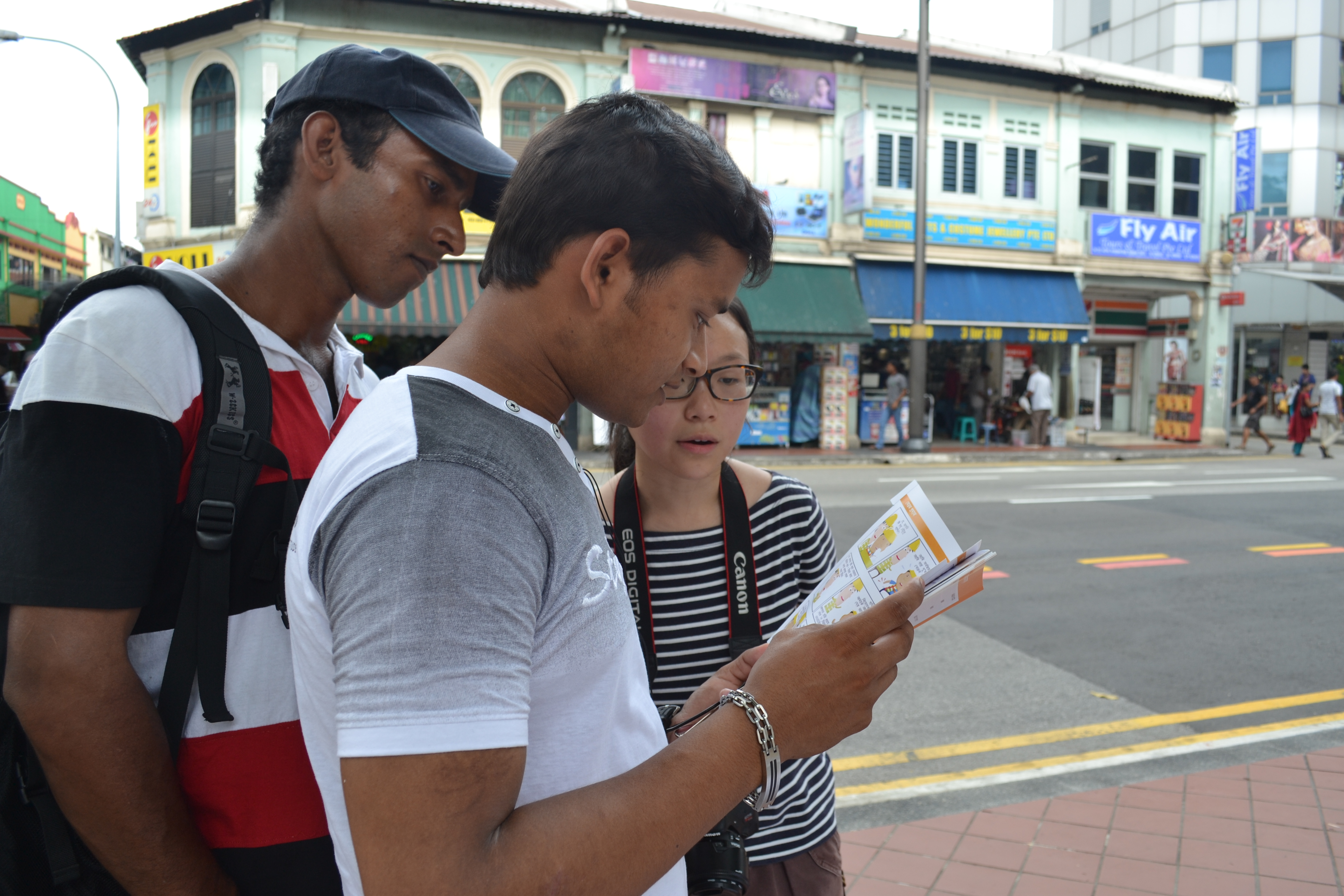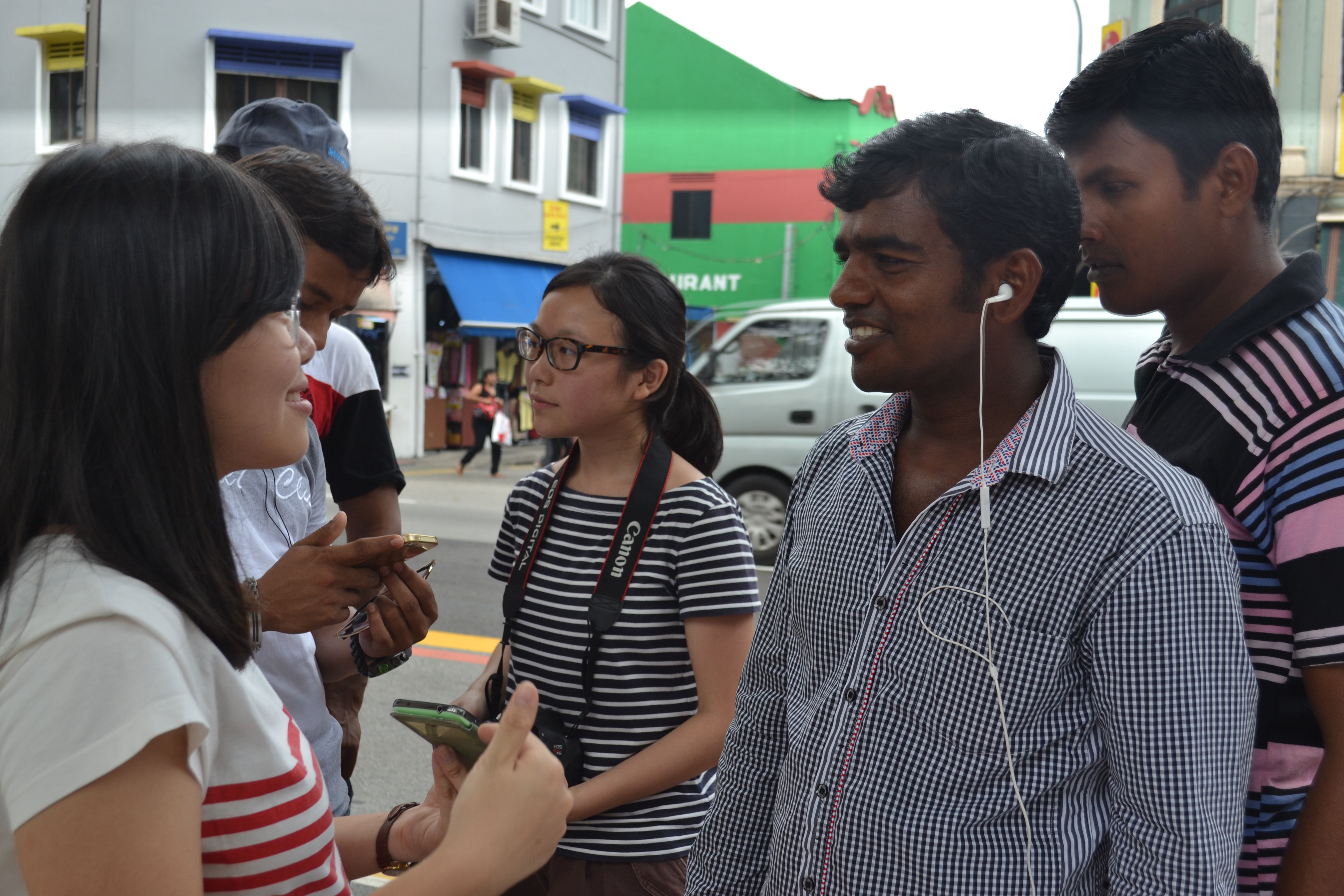 Takeaways and improvements
Through our user testing, our proposed ecosystem was generally quite well received by the Bangladeshi workers. However, this was just a target group that we decided to focus on to due to time constraints. The scope can be widened to include other nationalities.

I would also have gone further to create more high-fidelity mock-ups to test out the features of the app. More in-depth user testings can then be done to continue iterating and developing the design into a potentially viable product.
Year
2015

Awarded
1st Runner-Up, Ministry of Manpower Competition 2015

Team
Lim Xin Yuan, Koh Jing Ting

Collaborator
Ministry of Manpower Singapore